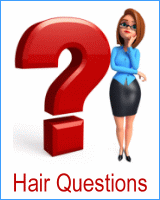 Mid-Length Cuts, Colors and Styles for Women
In Mid-Length Hair Cuts, Colors & Styles (1 Hr. 52 Mins.), Randy Topham demonstrates how to clipper cut hair in pie-shaped sections for soft-edged layers; provide all-over color with diagonally weaved sections of highlights to accent the cut; and, style for everyday chic or curl with a flat iron to achieve loose curls and body for an elegant evening look.

He also shows how to shear cut, thin, and splice along the edge for a jag; highlight with demi-permanent glaze; and, whip up the edges for a polished, smooth daily look or create an explosive evening hair style with zig-zag and cork-screw curls using an andoul iron and rouge them for body.

Click here to order the DVD with cutting, styling and coloring instructions.


More Instructional DVDs for Women's Hair