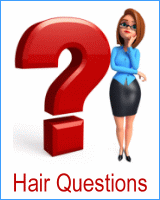 Sexy Long Hair
Is long hair always sexy?

A beautiful lady, whose long, luscious and shiny mane slides sexily down her back teasingly framing her perfect buttocks, may be a regular scene in a James Bond movie, but in real life it is a comparatively rare image. If a woman has been blessed with hair that can maintain health, vitality, shine and sex appeal when it is long, it is considered as the embodiment of femininity, fertility and beauty. Unlike the movies, if long hair is not maintained to a high standard, it can be lank, thin, dry, unattractive and definitely not sexy. Because long hair requires such high maintenance if it is to be considered sexy, there are numerous tips, steps and advice available to ensure sexy long hair is achieved.

How to make long hair sexy


If you are determined to persevere with long hair, there are certain styles which can give long locks the zest and life they often cry out for. Long hair can look it at its 'limpest' when left in a middle parting, which is the way long hair tends to naturally fall. Wearing the hair swept to one side can immediately eliminate lankness and dullness. Styling long hair to one side can also accentuate eyes and cheek bones. Do not be afraid to experiment with accessories to 'glam up' long hair and placing a pretty clip to one side will promote elegance, femininity and help you achieve sexy long hair. One of the great advantages long hair has over shorter hair cuts is the amount of different styling options available. There is something tremendously sexy about a long, luscious, shiny ponytail slithering down a woman's back. Experiment by positioning ponytails at different heights. Buns and swoops provide elegance and chic and tend to give the face some vitality and lift, as well as assisting in the goal to achieving sexy long hair.

According to a recent poll, men find wavy, long locks the sexiest hair on a woman. To achieve the hair that the likes of Britain's X-Factor judge Cheryl Cole and Friends actress Jennifer Aniston, seem to so effortlessly achieve, experiment with curlers, rollers and tongues. One of the greatest assets of long hair is its ability to be experimented with and manipulated, although be warned, the excessive use of heated appliances can dry out and damage long hair – use conservatively. Although long hair is extremely versatile, in order for it to be sexy, it needs to correspond with many different factors, including the physical characteristics and individual lifestyle of the woman. The shape of a face, a woman's figure, texture and thickness of her hair, her eye color and skin tone all need to be considered when deciding which style to go for to optimize sexy long hair. Lifestyle traits are equally as important. What are your personal time constraints? Do you have the hairdressing ability to maintain the same style you walked out of the salon with? Do you have the finances to maintain your long locks? Personalities and careers also come into the equation. Do long, wavy locks suit a businesswoman competing with men? Or is hair grown to the bottom practical for women in the medical profession or in a kitchen? Sexiness is not solely about being aesthetically pleasing on the eye, as to be considered sexy, realism and common sense needs to prevail. Nobody wants their soup to be strewn with hairs, no matter how sexy the woman may be who is serving it.

How to take care of long hair to retain its sexiness

Long hair demands more care and attention to maintain than short hair. Simply growing your hair, washing it several times a week, and brushing it every morning will not ensure for a sexy long mane. There are several steps you can follow which will help preserve a sexy head of long and lavish locks. Because long hair is more prone to breakages and split ends, refrain from brushing it when it is still wet. If you do brush it use a wide toothed comb to minimize the chances of breakages. Wash long hair frequently, preferably every two days, as hair which is long is more susceptible to becoming greasy, and hair which is greasy does definitely not equate to sexy hair. Use a high quality conditioner designed specifically for your hair type to keep your long hair in good condition and to minimize dry or frizzy ends, which can often plague longer locks. Leave-on conditioners are a good option for longer hair, as they help keep the hair smooth as well as making combing easier.


Trimming long hair regularly, every 6 to 8 weeks, will help to maintain its length and keep the hair smooth and sexy. Because trimming the hair frequently will lessen the chances of split ends appearing half way up the hair, it will not have to be cut short to remove the split ends. Special care needs to be taken when long hair is exposed to the sun or a lot of swimming. Use a hat or a sunscreen hair cream to help protect it from UVA which could potentially dry it out and damage it. Similarly wear a plastic swimming cap to protect long hair from the chorine in the swimming baths or the salt in the sea.

There are literally millions of men who adore a woman with a short and sexy hair cut, believing their hair signifies confidence and self-assurance in and out of the bedroom. Men however are creatures of habit, and for centuries long hair has been considered as the incarnation of female beauty and sexuality. Trying to shatter this age-old belief, which has been ingrained into culture for many generations, is an almost unattainable mission. Although it is not so unattainable if a lady's long locks are fundamentally frizzy and speckled with spilt ends. Hair and what style is considered sexy, is both a cultural fad and an individual preference, which can be greatly influenced by nature and fashion, and therefore generalizing what type of hair is more 'sexy' is an unfair conjecture. For example, whilst in America, women with long hair are glorified, in countries such as France, short hair is considered sexy and feminine.

There is however, a phenomenon known as "Rapunzel culture", whereby long hair and the health, vitality, fertility and sensuality it can promote, is idolized by both men and women alike. Although in contemporary society, with all the pollution, hectic lifestyles and an overabundance of styling appliances and products, long hair is rarely representative of health and vitality, and instead long hair has succumb to short hair in the battle for vitality. Yes, long hair can be sexy, extremely sexy, but to reach that level of sexiness, it requires an awful lot of tender loving care.

©Hairfinder.com