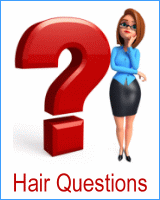 VOG Coiffure
Hairstyles Spring-Summer 2013

(click for larger photos)


For their new collection of spring and summer hairstyles, VOG Coiffure is holding nothing back. All that we love about hair is represented in abundance. Cool colors, great textures, much movement and of course sexy volume are key points in the design. Classics meet modern ideas and all is infused with plenty of sensual allure. Lengths vary, as do the colors which cover a natural palette from blonde to black with some in betweens.

The hairstyles themselves are classy, at times casual, then again sophisticated and just wild, vivacious and voluptuous. Made for women who are passionate about fashion and about their lives. The collection also shows several cuts and styles on the same model to illustrate what a difference a few inches or a different styling can make on the same person. Have you found your favorite look yet?



Hairstyles:
VOG Coiffure
More Collections:
Buzz Cut
Color Addict
Spring Summer 2012
Autumn Winter 2009-2010
Autumn Winter 2012-2013