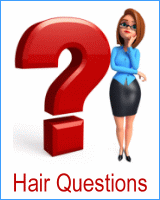 Smooth Short Hairstyle

Every line in this cut is softened with fine and in places more distinct texture from the very short neck to the asymmetrical bangs. Their diagonal line beautifully interrupts the pleasant roundness of the shape. The tips gently caress her cheeks and the lines of the sides and the bottom cutting line are styled to snugly adhere to her face and neck.

Volume is controlled and created carefully with a round brush and a hair dryer. Feminine as can be and with a lot of flair, all taken up another notch by the great color combination that seems to vibrate all on its own. The highlights stand out, but have a very natural appearance, due to their being a sun kissed version of the base color.



Collection: Douce et Féminine
Hair: William Lepec for Intermède
Coloring: Jérôme Poret
Styling: Kathrin Lezinsky
Make-up: Vesna Estord
Photography: Jean-François Verganti

Related posts:
Hairstyles for short hair
Short hair flipped sideways