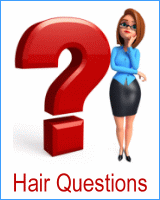 Sleek Bangs with Curls

Movement and sleekness come together as opposites and create quite a stir. The accent of the sleek bangs, draped very elegantly across her forehead and ending in a chic curve, makes the curls that adorn her crown stand out even more.

A slender neckline with a snug sitting curve of hair gives this short hairstyle a very slim look. A warm brown with dark golden highlights is a refined and flattering haircolor that matches her skin tone. This effect comes out stronger with the make-up in the same earthy tones.



Collection: Follow Me

Hairstyle: Camille Albane
Hairstylist: Louis Lafolie
Colorist: Marie Bidart
Make-up: Camille Albane
Photographer: Nicolas Valois

Related posts:
Hairstyles for short hair
Top heavy short hairstyle with curls
Short curly haircut with a dominant top