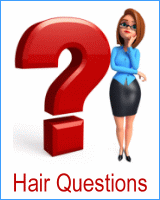 Mon Coiffeur et Moi 2
Jean Louis David Hairstyles

(Click for larger photos)


After 50 years of creating high fashion hairstyles, Jean Louis David salons celebrate a grandiose anniversary with a beautiful collection of hair, that emphasises the special relationship of the client with her hairdresser. The better this relationship is, the happier both sides will be with a stylist who knows what his or her client needs and wants and what looks best on her. A client who has found trust in her coiffeur and knows she is in the best hands to be as beautiful as she can be.

The styles represented in this collection are perfect examples for hairstyles that are tailored to the personality and type of a client, while being super chic, modern and each one with a little edge. Versatility is an important fashion ingredient and some styles are shown in several styling options.



Copyright: Jean Louis David
Cuts, Colors, Hairstyles: Jeff Causse, Virginie Messai & Valentin Mordacq
Make-up: Anthony Preel, Yacine Diallo
Photography: Fred Aufray

More Jean Louis David Collections:
Urban Rock
Urban Light
Urban Energy