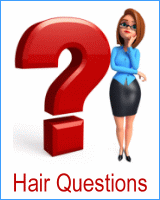 Modern Bangs with Long Curls

Femininity and rebellion could not be more elegant when they come together in a long hairstyle of this quality. The greatest finesse was put into the diagonally drawn highlights that allow a beautiful and perfect blend of the darker top to the illuminated tips.

The lighter the hair becomes the more movement takes place and both, the light and the motion are supporting each other in a most playful and striking way. Again the short fringe shows an extremely jagged line. Modern, feminine and fabulous beyond chic.



Collection: Paradis Lunaire
Hair: DESSANGE
Photography: Nicolas Valois
Creative Director: Eduardo Sánchez

Related posts:
Long hairstyles
Casual long hair with textured tips
Sporty long hairstyle with bangs